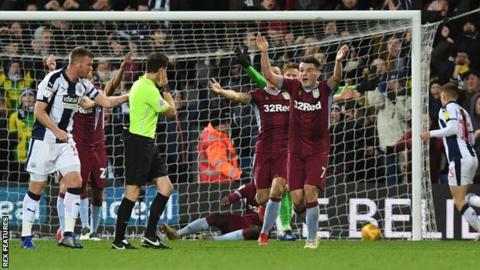 Well it could of been three points which will settle for a point but we can't deny that the referee and linesman played a big part in not giving us the 3 points. Let's not feel down in the dumps because this the best we've seen Aston Villa for a long time in terms of attacking play and the way we can out play teams on our day, let's not deny we was facing a quality side in West Brom who have been brilliant so far this season.
Dean Smith made one change coming into this game as Hutton played instead of Elmo from the 3-0 win over Boro. We made a great start as El Ghazi's shot took a massive deflection of Hegazi to make it 1-0 and it was a great start. Hutton was the fault for the equaliser as he didn't do enough to stop Barnes and then his cross found Gayle to make it 1-1. At half time we all thought we will take a draw but I feel that we can can grab the 3 points to see us in top 6. Second half started and we came out and again we was causing more problems for West Brom as El Ghazi and Bolasie was creating chances but, Abraham was not as clinical as we hoped considering he was recently voted player of the month.
Grealish did well to lay a pass towards El Ghazi who finds the top corner superbly to make it 2-1 and he's been fantastic since he came back into the side. Finally a player that is not afraid to take on players and not afraid to shoot and I'm glad we have a buy option in January because he will be worth every penny. But then the referee decided to shape thing up in this game as in the first half we had a clear penalty in which it wasn't given and to make matters well West Brom made it 2-2 in which Rodriguez used his hand and it was given a goal which was very annoying.
But I'm sick of some fans who decided to put the blame on a fucking goalkeeper and that GK is Nyland who did nothing wrong. It's what happens when they don't analysis the game and when we concede a goal they blame the keep to protect the other from criticism. Some players need to get some criticism apart from Nyland as he will get better after this season when he is settled.
Let's hope Stoke this Saturday will give us to smile about if we get the 3 points and we will be in the play offs by Christmas UTV!!!