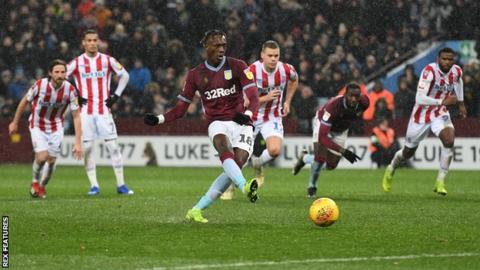 Well where do I start, I'm quite frustrated as this was a fixture that had three points written all over it with the confidence we have. The fans did there bit but some players were not up to standard, but that's football your favourite player may have a good or a bad game so it happens.
Dean made two changes with Grealish out with injury and Whelan came in and Hutton was playing LB and that's not a fucking surprise. The game started and it was in all honesty it was a shit first half, not a lot happened to be honest apart from Nyland keeping us in the game and he deserves credit after today. Second half started and Stoke came out on fire and we was struggling to keep up the pressure, Alan Hutton was 1 on 1 with McClean and he was bullied off the ball easily as he squared it to Allen who makes it 1-0 and Nyland didn't have a chance. But Kodija came on for El Ghazi and made an instant impact as he won the penalty in which Abraham slots it in too make it 1-1.
Another defensive mistake with McClean again going inside on Elmo who showed him inside, which is criminal defending from him and he brought him down and it was a penalty to Stoke. Afobe stepped up made it 2-1 and it was gonna be tough to get something out of this game. Kodija yet again saved us with Bolasie who crossed it in to Kodija who heads it past Butland to make it 2-2 and that's how it ended as it was a great game but a point is a point and we move on to Leeds. Now let's talk about the full backs in Hutton and Elmo, I know Hutton is not a LB but it's not the first time he has played there. They were poor today and I'm gonna be honest Hutton and Elmo are not good enough for a Dean Smith side. I'm sorry but I can't keep it on any longer Hutton has been suspect for the goals we've conceded like the one against West Brom and now against Stoke but we still blame Nyland and Elmo has always been utter shit as a RB so.
Now we have to look to Leeds on Sunday and I'm scared what's gonna happen but January new players will come in hopefully and Dean Smith will build our squad to compete once again UTV!!!