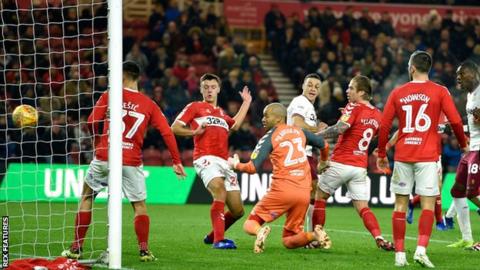 Another weekend gone and another win for Aston Villa and that takes us to 5 games unbeaten and scored 17 goals in those five games, and also 3 points of top 6.
Brilliant result for Villa as Boro were third in the table and we was hoping for a draw, but Villa needed the 3 points after that carnival 5-5 draw against inform Forest. I was gonna talk about the game but there's so much that has happened it was like what the fuck just happened but a draw was a fair result, considering both teams were quality going forward but they was so shit in defence.
Let's talk about this game then, now team was changed around as El Ghazi came in for Kodija and with Abraham in sensational form at the moment and Hutton wasn't playing due to too many yellow cards and Elmo was at RB. We started the game strong crating chances with Bolasie causing problems and forcing Randolph (their GK) to keep Boro in the game. The first goal came from James Chester to make it 1-0 just before half time and that what we needed but we need to kill them off and seal the 3 points. Second half started and we went 2-0 up with Bolasie's low cross finds the man Tammy Abraham who continues his goal scoring form with his 11th goal this season.
We was looking comfortable and the form we are in right now has come round at the perfect time and Dean Smith is starting to get use the the players we've got. Abraham is scoring goals, El Ghazi is looking good as well after his brilliant goal against Forest and Grealish showing consistent performances again. Then the 3rd goal came when Glenn Whelan's shot which was spilled by Randolph and it was a brilliant result for us and now it's the big one. I know I give this guy a lot of stick but let's be honest he's shite and the fact that he scored just shows how bad Boro are because our worst player has scored a goal so yeah that's why I find it funny.
Friday night, West Brom away and it's a massive game for us as they are in form at the moment in 2nd place and chasing promotion. A win will be fantastic but I can take a draw and then beat Stoke and Leeds and maybe be in the play offs by Christmas and it will be a Christmas miracle. UTV!!!!
If you enjoy this blog then make sure you like and follow my blog for more Villa madness.