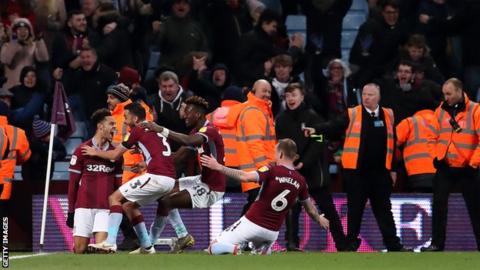 Well I have no words to describe this Friday night match because, It's either we were shit or they were shit but fuck it' I'll take a point but really and truly it should of been 3 points.
First half we was 100% dogshit from the fouls the desire and the passing especially from Hourihane who was terrible. He's only good at taking free kicks and 2 metre passes that's it. Clumsy when he takes corners, and clumsy from long range passing. The same with Jedinak who made it quite clear that he's not good enough for Dean Smith's squad at all. Billy Sharp made it 1-0 and he's in form at the moment with him and Tammy Abraham both close to 20 goals in the Championship, and if Sheffield United win they will go top on goal difference ahead of Norwich and Leeds.
Second half started and we came out still playing like shit and the referee and linesman were both at fault for the second goal in which Sharp was offside when the initial shot was saved by Kalinic who had a decent game to be fair to him, a header hit the post and Kalinic had both hands on the ball and Sharp caught the ball and his hands to make it 2-0 and it was never a goal. If that goal didn't stand then it could of been 3-2 but that's not a bit fair because we only started fighting for the last 10 minutes of the game. Hutton yet again was the mistake for the third goal and Sharp collected his hat-trick and again Hutton should fuck off and he's not good enough and he's stealing a living like Richards.
We got one goal back when Mings heads it in to make it 3-1 and after the incident in Reading his performance was superb and he's been brilliant again last night. I thought that's are only goal but then Abraham made it 3-2 and I thought surely not we left it late to fight back. But out of nowhere, super-sub Andre Green leaps up and heads it in to make it 3-3 and Villa Park went absolutely mental as we was bad but Sheffield United were bad as how can they fuck up a 3-0 lead with 8 minutes left and they've given Norwich and Leeds an opportunity to take control of the league table.
Some positives to come out from this as Mings and Elphick were brilliant together and Green came on and made an instant impact as he scored the equaliser. A win is what we needed and we keep getting draws and they won't help us this season as I've now said that we won't make play-offs as it will take a miracle to get this defence sorted and get into the top 6 by the end of March. We showed a lot of character and fight to fight back from being 3-0 down but really we didn't deserve anything from this game but I'll take a point rather then no points, so we move on to Wednesday with Brentford and the big one against West Brom on Saturday UTV!!!!
If you like this blog then make sure you like and follow for more Villa madness.