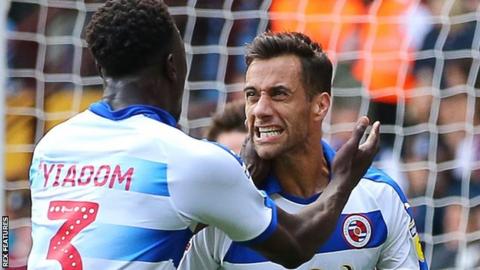 3 games, 3 draws and really if we want to get out of this league then we need to beat teams like Reading. The blame has to put on to Steve Bruce because he put a strong side and no one really played bad. It was a really attacking side and El Ghazi made his debut and he was really good in this game. McGinn was working so hard in this game, Jedinak looked like a CB for a change and Bjarnason was fantastic but another player or goalkeeper who was fantastic, Nyland.
Nyland was keeping us in this game with unbelievable saves yet again. You can tell the confidence is there and I said for a while that he will come good and it's happened. A lot of people did give this guy stick but he doesn't deserve the stick because we have a defence that a clueless man in Steve Bruce has set up to invite pressure towards Nyland and without him we will be losing more then ever. It was 0-0 at half time and really with the amount of chances but our finishing and our decision making was so poor. That will come with more training sessions for crucial games coming up. Second half starts and the same as ever we don't change it up to exploit the weaknesses in Reading's defence and this has been my problem with Steve Bruce as he never seems to have a Plan B when it comes to breaking a team down and let's be honest every manager needs a plan B if plan A doesn't work, otherwise we are screwed.
Two new players have recently came to Villa in El Ghazi and Bolasie who I'm very excited to see at Villa this season. Anwar El Ghazi who made his debut and he was so confident and what I was surprised about was he wasn't nervous when playing in-front of 33,000 people and his confidence was incredible. He was the man who got villa and running with a brilliant cross in which Elmo met really well to make it 1-0. We were all so happy and we were shouting "go again, make it 2, make it 3 kill them off". But that's another problem with Steve Bruce, is that he instructs playing sit on a 1-0 lead and this is Aston Villa. I want us to be an attacking side and blow teams away with the amount of quality we have in our disposal but Bruce doesn't let players express themselves a lot on the pitch.
It was a nervy game as we was hoping we can clinch the victory here but why did they take Kodija off for Taylor which is dinosaur tactics written all over it as we were sitting on a 1-0 lead. Then James Chester with as tackles go, one of the dumbest challenges you will see as it was no trouble whatsoever and he panicked at the wrong time and it was a penalty in which Baldock made it 1-1 and it was what we deserved. We shouldn't be dropping points to these relegation battling sides as we need to show what we are this season with new players, new owners and optimism around the club but with the same manager, sane tactics and same dogshit performances as we go to Sheffield United next Saturday and if we don't win that then it will be doom again.
If you enjoy this blog then make sure you like and follow for more football madness.