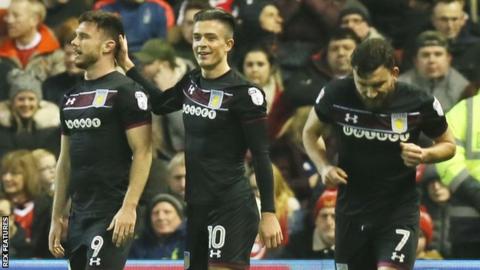 Being a Villa fan with Steve Bruce is like being a wife to an unfaithful husband where you know he's cheating on you but then he's started to bring you flowers and chocolates, so I might give him another chance. Only playing but it was a massive win on the weekend over Nottingham Forest who are a nightmare to beat.
We started well and we was facing a team that outplayed Arsenal in the FA Cup so I was worried coming into this game. Forest also had a new man in charge by the name of Karanka who managed Middlesborough to the Premier League, so yeah I was worried.
We took the lead when Snodgrass crossed in a brilliant ball into the box into Scott Hogan who has been impressive in his last few games. His training has paid of for when he got in front of defender as a striker should do and makes it 1-0. Hogan has been good in his last few games and he's still effective for our squad, but he needs to be played in the right way to get the best out of him.
Overall we had good chances when Terry's header hit the crossbar from a Snodgrass cross and also Snodgrass's freekick was saved by the keeper and we could of won 3-0. Snodgrass is a player I feel we should try keep permanently because he's showing s he can show his class week in, week out.
We are 4th in the table now 5 points behind Derby who are second so we have a chance to make the automatic play off spot without any problems. Let's keep this up and we could be back into the Premier League and we can rejoice for when the scum go down.
If you enjoy this blog then make sure you like and follow my blog for more football madness.