Hi guys Milan here and we are going to talk about football today. I will be talking about of some of the games that was played over the weekend.
Newcastle Utd 1-2 Huddlesfield Town
This is a shock of the weekend as Rafa Benitez lost for the second time this season and Newcastle fans was angry over Twitter with them saying they might get relegation and saying Rafa needs to go etc. I think Rafa is under pressure but I think he can get results in over the weeks and work his magic.
Huddlesfield striker Nakhi Wells made it 1-0 as his shot was drilled in the bottom corner before half time. Second half starts and Newcastle was awarded a penalty for a handball in the ball. Dwight Gayle made it 1-1 with his first goal for Newcastle and they had loads of chances to take the lead. 82nd minute into the game Payne drilled home as Huddersfield won at Newcastle for the first time since 1953.
Hull City 2-1 Leicester City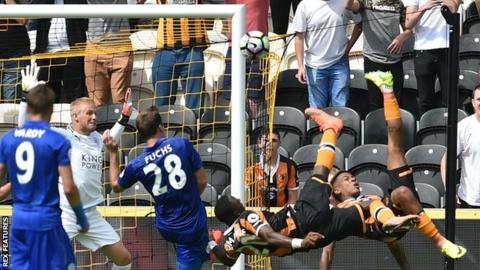 The reigning champions that are Leicester City kicked of there season with a shocking defeat to newly promoted Hull City at the KC Stadium. Hull are without a manager and they are relegation favourites. The first goal of the 16/17 season was Hull City as Adama Diomande and Abel Hernandez combined acrobatically, with Diomande awarded the goal. It was an unusual goal and it was poor defending from Leicester.
Riyad Mahrez  who was player of the season last season replied from the penalty spot at the start of the second half after Demarai Gray had been fouled. But Robert Snodgrass earned the Tigers victory with a brilliant strike to beat the goalkeeper. I can tell they miss Kante in the midfield after his move to Chelsea. As for Hull they will be happy with the result.
Arsenal 3 – 4 Liverpool
Liverpool started their season with a 4-3 thrilling win against Arsenal and that's what Premier League football is all about. Theo Walcott fired in the first goal for the Gunners in the 31st minute moments after missing a penalty. Coutinho made it 1-1 with a brilliant free kick that beat Cech in goal. Then Adam Lallana smashed it in to make it 2-1 to Liverpool and then Coutinho get his second goal in the game to make it 3-1.
Sadio Mane made it 4-1 and it was humiliating by Arsenal and their fans over Twitter with "Wenger out" etc as they do. Oxlade-Chamberlain made it 4-2 and Callum Chambers made it 4-3 and Arsenal was trying for a comeback and they almost did. It's back to the drawing board for Wenger and he needs to go out and buy a centre back and a striker to make them title contenders.
Bournemouth 1 – 3 Manchester Utd
Zlatan starts his Premier league season with a bang as Manchester United won 3-1 against Bournemouth. Juan Mata made it 1-0 with a lovely finish and he needs to consider his future because Mourinho was treating him bad when he was at Chelsea or he might keep him.
Rooney made it 2-0 as he header it in the goal from a rebound shot from Martial and United are in cruise control. Then the man for the big occasions that is Zlatan Ibrahimovic scored a 25 yard goal and he continues he record of marking debuts with a goal. He scored a debut goal in countries like England, Italy, Spain and France, and in the Champions League. A goal by Smith for Bouremouth give them a consolation goal and I think they will struggle but they will get results. 
If you enjoy this blog don't forget to like and follow my blog for more football madness.