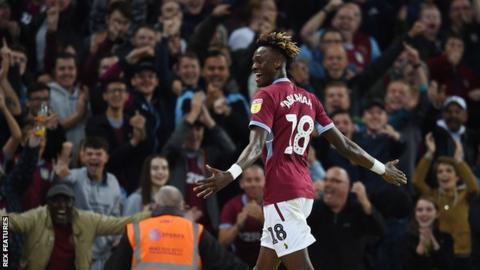 Before anyone comes at me with this blog, I'm saying the truth here and I want other fans to acknowledge that this results just papers over the cracks for Steve Bruce's future at Aston Villa. Don't get me wrong I'm happy we won the match to somehow gain confidence coming to the following games coming up.
But one result doesn't solve our problem that is Steve Bruce because we were not great against Rotherham, like if they would of too their chances then this would of been a different game and Bruce would of been sacked, but still he's here for a little while longer but it won't last. We actually changed the system for once and played 2 strikers for once which is once in a blue moon when Steve Bruce is manager. There was a few positives from this game with Abraham and Kodija looking good together considering Kodija set up Abraham to score to make it 1-0. I'm very impressed with Abraham so far for Villa, considering he was brilliant when he was last in the Championship with Bristol City scoring 23 goals, but I feel he will score loads of goals for us if he continues his form.
Hourihane did well in the midfield with John McGinn after a superb free kick agaisnt Blackburn. McGinn has got a lot to his game then just score goals with his incredible work rate and non stop pressing of opponents and he will become a fan favourite even though he's already a fan favourite at Villa. I know you guys will go at me because I'm being negative but all I'm saying is relax, it's 3 points, we move on and you get fans after the game saying Bruce should stay even though they were asking Bruce to leave last game and those set of fans are fickle. I'm happy that we won but that isn't enough for me because Steve Bruce is still here and I want change because we are not going to move forward with him in charge.
Another positive is Bolasie, he came on and he scored the second goal to make it comfortable for us and give Rotherham no chance. The new players are settling in well and they will get better every game but they might have a bad game but they will We move on to Sheffield Wednesday as we look keep the momentum and maybe we can clinch play offs which what I don't want because I want Second spot and ease my way into the Premier League.
If you enjoy this blog then make sure you like and follow for more Villa madness.